Registrations are now open for Australia's premier dairy event ADC 2024 Melbourne.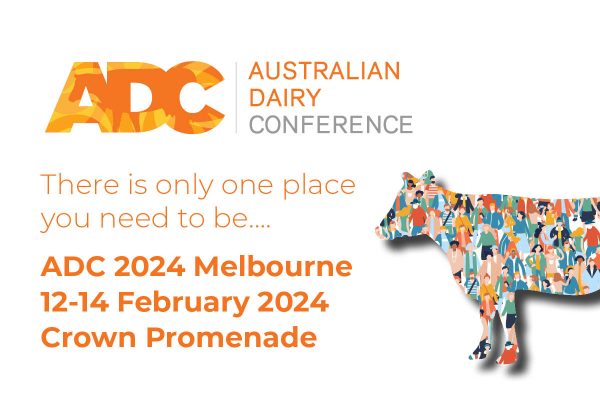 Locked in the calendar for 12-14 February 2024 at the magnificent Crown Melbourne, ADC 2024 is shaping up to be one our most epic gatherings yet! Secure your spot and rub shoulders with 800 of the brightest and best in our national dairy industry.
ADC has shuffled to earlier in the week running Monday – Wednesday allowing you to attend and depart the city before Swift mayhem takes hold. Invest in a few days off farm to learn, challenge and be inspired from global innovators, homegrown heroes and those leading from the front in dairy.
The ADC 2024 Program will be released later this month… and dare we say that we hope you are ready to be gobsmacked, polarised and challenged as we tackle issues and conquer taboo dairy topics in 2024.
For ADC registration and pricing please see ADC 2024 Melbourne Registration Information.
Individual registration ADC 2024
Individuals please use this registration link. This link can be used for multiple people however registrations will be invoiced separately.
Registering more than one person for ADC 2024? Use the ADC group booking portal to manage your group or business (even if you are not attending). Group bookings receive one invoice and ability to check, change or add registrations to your group. NOTE: Subsequent farmer bookings must use group portal to receive discount.
Think of Melbourne and look no further than Crown as the penultimate entertainment venue right on the banks of the Yarra River and Southbank precinct. ADC is indeed right in the city at the world class home of Crown in February 2024.
Plenary sessions for ADC 2024 Melbourne will be hosted at Crown Promenade in the ultimate Conference facility with auditorium and accommodation in an all-inclusive venue. ADC social functions have been taken up a notch in 2024 with some showcase venues to allow dairy farmers from around the country to step out in style to elevate and relish in some time off farm.
ADC Accommodation rates & information
Finalise your planning and sort your accommodation early with a range of options provided for ADC delegates at Crown premises including the Promenade (plenary venue) and Metropol which is right next door.
Discounted rates and more information available via the accommodation link below.