The Australian Dairy Conference (ADC) has once again established itself as the premier event on the dairy industry calendar with an almost-capacity delegation.
More than 550 plus dairy industry delegates will gather in two weeks in Hobart in a record-breaking contingent for the farmer-led organisation.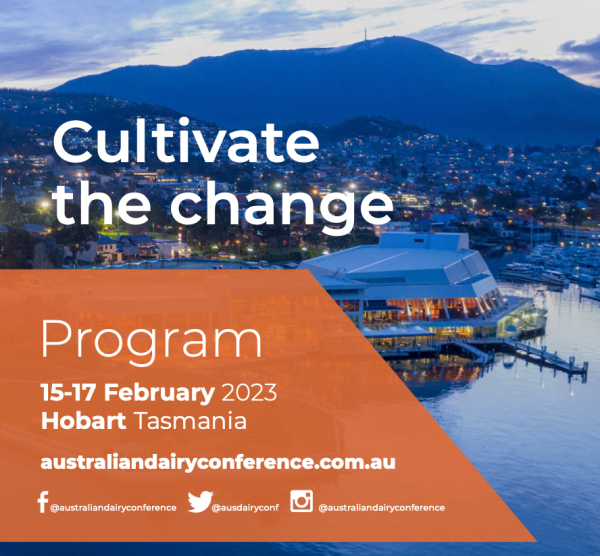 ADC President and Rochester dairy farmer Tom Acocks said that whilst projections were always high for the return of the signature event, the ADC Board has been overwhelmed by the response far and wide by the national dairy members.
"Melbourne 2020 was one of our biggest Conferences to date breaking the 500 barrier but Hobart has far surpassed all expectations and we have reached 550 still with two weeks left to go," said Tom.
"I think everyone is excited to be able to get off farm and gather once again. It is the first time we have brought ADC to Hobart and the location is appealing in regard to the rich dairy regions in the state and the waterfront venue," Mr Acocks said.
"The Australian dairy industry has also faced some challenging circumstances over the last few years from flood, of which I have experienced first-hand the devastation caused, and of course COVID implications which forced ADC into a three-year imposed break," he said.
"We are likening ADC 2023 Hobart to be like a big family reunion with everyone coming together again from all parts of the country to celebrate our dairy industry. I am sure Wrest Point will be buzzing with the hype and discussion," said Tom.
"We are absolutely set for a memorable event. The pre-Conference tour is sold out, the Gala Dinner is sold out and you can't get a room at Wrest Point. There are still registration spots available if you wish to attend with the capacity to take 600 in Conference sessions
ADC 2023 is set to address some of the biggest topics in the industry from climate change, disruption, succession, advocacy, animal welfare and exploring the possible.
Speaker highlights include:
Professor Frank Mitleohner, University of California Davis – specialising in the intersection of animal agriculture and the environment, Dr Mithloehner aims to debunk the myths on cattle and methane with an argument to make us rethink how our methane impact can be turned from being a liability into part of a climate solution.
Professor Richard Eckard, Professor of Sustainable Agriculture, University of Melbourne – one of the world's pre-eminent experts on agriculture and climate change and advisor to the Australian, New Zealand, UK and European Union governments, Professor Eckard will set the scene in the role of dairy and how it, and the agriculture industry as a whole, need to respond while feeding the world.
Professor Marina (Nina) von Keyserlingk, Professor of Animal Welfare, University of British Columbia – internationally recognised, has made it her business to understand the perspective of the dairy farmer and works to find opportunities in the challenge of producing food in ways that are socially acceptable, environmentally friendly and economically viable.
Dennis Hoiberg – well-renown 'resilience whisperer' delves deeper into the psychology of the dairy farmer challenging the industry to remember that milking cows is what they do, not who they are.
Basil Doonan, Partner at Pinion Advisory – asking hard questions of dairy farmers and exploring whether we do indeed need growth to success.
Mike McCully, President, The McCully Group – US dairy chain consultant looks turns to the US for comparison and how individual family farm and industry levels, have overcome significant capital, labour and price challenges to growth.
Nedd Brockmann – emotional scenes at Bondi with 10,000 people welcoming home the man who captured hearts running across the nation. This 23-year-old sparky is the fastest ever Australian to run across the country (Perth to Bondi) 4000km in just over 46 days. His daily quote of 'get comfortable being uncomfortable' is the perfect fit for ADC 2023.