From the Ukranian war front to international mandates, perceptions of farming & dairy technologies making an impact… a strong international focus headlines ADC 2024 Melbourne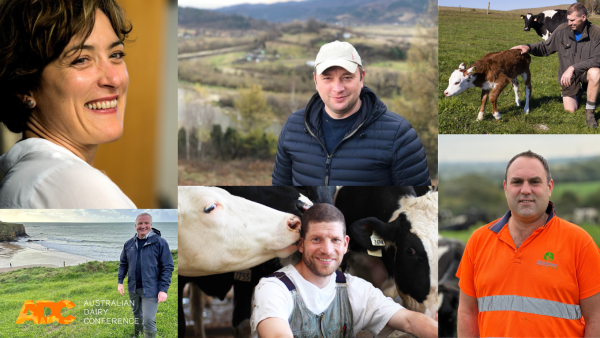 Global dairy influencers are back centre stage at ADC 2024 Melbourne as the return of international keynotes drives a new realm of opportunity and possibilities for Australian dairy farmers.
ADC 2024 Programming Chair Michael Rood aka 'Roody' said the focus of the program for this year was about 'The Power of Purpose' and challenging every Australian dairy farmer to find their purpose and inspiration for what they do.
"There is an underlying tone for ADC 2024 of getting comfortable with the uncomfortable and how we can make true change and impact by challenging ourselves and defining what we really want to achieve," he said.
"Dairy farmers are a resilient lot and there has been a lot thrown at us over the years from fire, flood, disease and market fluctuations. Dairying in today's climate we need to be able to dairy beyond the comfort zone for businesses to grow and prosper and importantly also for our mindset and belief," he said.
Roody said there is a lot of excitement about the strong international flavour to ADC 2024 with everything from dairy farming in the Ukranian war zone to government regulation in the EU and climate mandates in New Zealand through to exploring AI implications in the dairy industry.
"In 2024 we have scaled the globe to find trailblazers that have overcome adversity and can demonstrate to Australian farmers the true meaning of purpose and resilience. We are privileged to have one of our strongest international representations ever with eight keynotes joining us from across the globe," said Roody.
"Dairy farming can be a tough gig at the best of times and no more so than when you are confronted daily by air raids, abductions and daily milking shifts within a war zone such is the case for Ukranian dairy farmer Andrii Pastushenko," said Roody
"We are very fortunate and privileged to bring Andrii to our shores for a first-hand account of the struggles, resilience and acts of bravery as he and his 75 strong workforce maintained farm operations amongst a volatile and escalating situation around them," he said.
"I think it will be a reality check for many of us in respect to our own set of challenges and hopefully will trigger a renewed mindset in how we tackle and embrace adversity into the future. Furthermore, hearing from Andrii I think will poignantly provide greater understanding and empathy for international counterparts and what the situation they are currently facing," Roody said.
Key international highlights ADC 2024 Melbourne:
Andrii Pastushenko, Ukranian dairy farmer – Farming on the front line
Mike Brady, Irish dairy farm consultant
Dr Amy Jackson UK specialist crisis communications consultant
Chris Falconer, New Zealand dairy farmer
Mark Ferguson, Nextgen Agri, New Zealand
Craig Piggott, Founder Halter, New Zealand
Juan Moreno, Sexing Technologies, Colombia
Ben Loewith, Summit Station Dairy & Creamery, Canada
Tom Rawson UK dairy farmer andARLA shareholder